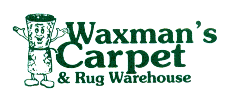 wcrw.com Shop Online TOLL FREE 800-334-8397 Free Shipping Tax-Free Outside Ohio
Privacy and Security Information
Your Privacy:
Waxman's Carpet & Rug Warehouse respects your privacy and keeps your personal information private. We do not rent, sell, or share your personal information with anyone.
Your Security:
Our Online Shopping service uses a secure server to enter your credit card information. The Web site service uses Secure Sockets Layer (SSL) encryption, the industry standard. This technology encrypts your credit card information before being sent over the Internet, when using secure Internet browser software.
Some versions of Microsoft's Internet Explorer browser display a gold padlock on the bottom right of the screen in the secure mode. Another way to know that a Web site is secured by SSL is when the URL starts with the letters https: instead of http: . You should see at the browser address bar up top www.aitsafe.com/secure address information while placing your secure order. Unfortunately, no E-commerce system can guarantee 100% protection for your credit card.
If you prefer you can place your order by phone using our toll free number. TOLL FREE 800-334-8397
You can also email us with your phone number and the area rug(s) or item(s) you would like to order, and we will call you back to take your order over the phone.
Carpet . Area Rugs . Binding & Rug Carving . Monthly Specials